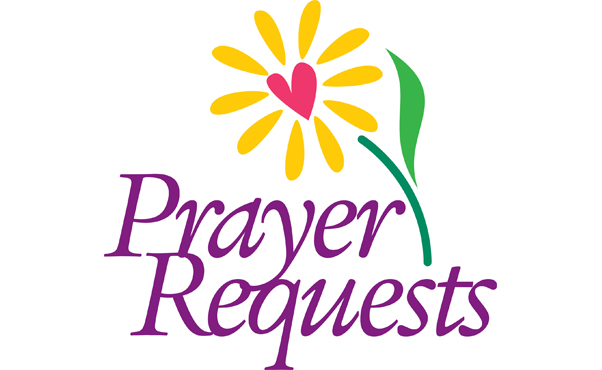 Steve Marion - Please pray for Jannet having surgery tomorrow. 
Karen Moss - Please pray for a close friend's brother who was just diagnosed with stage 3 colon cancer. He started chemotherapy on Tuesday.
Ruo - Would you please help us to pray for healing and salvation for 3 seniors? (non-Christians) They are cancer survivors in their 70s. Their names are: Gang, Xiao and Peng. Your prayer changes lives. We truly need and appreciate your prayer. Thank you!
Pam Kedenburg - My baby brother Robert was in  terrible accident.  He is critical. On ventilator with brain bleeds. They put a shunt in to drain because of the swelling. He broke his neck also. Please pray for recovery and that he is not diminished in any way.
Andrew Pick - Healing from side effects of medication causing tiredness, pray side effects goes away so I'm less tired, praise God.
Evelyn Froisland - Please pray for my sister Nancy.  Her apartment was flooded by a water main leak last week. She has had to remove all her furniture. She is temporarily staying with her daughter until the complex repairs the apartment or moves her elsewhere. Also, please continue praying for us and my son Steven's family and his brother David. His death has been extremely hard on all of our family. And, for Karen healing from the accident.
Pat Rogers - My husband's cousin requested prayer for Laurie Jones who has been recently diagnosed with lung cancer.  She is 59.
Vanessa - For Blake's brother in law, Ernie, having surgery for an aneurysm.
Jan Murray - Pray for Wayne, he had his PET scan and we are waiting for results.
Alexis - For me to get closer with God and for His guidance. I have been improving but still have more to improve.
Hunter - For the friend that I lost last month to a drug overdose. Please let her be in heaven with you.
Karen Neumeyer - Please pray healing and comfort for our dear sister in Christ, Karen Johnson, with heart and lungs failing and recovering from being in ICU with 4th heart attack. 
Reta Walker - Healing for brother-in-law, Jerry, has cough and fever, has many health issues including his heart and diabetes. Prayers for his mother, Dot who is in nursing home not doing well, strength for my sister June. I thank God for our church and pastors and great service we had Sunday. God is good!
Pat Rogers - My husband's cousin requested prayer for Laurie Jones who has been recently diagnosed with lung cancer.  She is 59.
Shelly - Please pray for me to be healed of anxiety & worry. Thank you so much. I really appreciate it!
Dorothy Black - My son Tony will be operated on at 5:00 AM, to receive a liver transplant. He asked me to ask the church to pray for him. We also Thank GOD for this opportunity of life. Also Tony  asked to pray for the donors family. My sons full name is Anthony E Barbera, Sr. He is in the Mayo hospital in Jacksonville, Fl . Also pray for his wife, his caregiver, Debbie Barbera. Thank you all, prayer warriors!!!!!
Ny'lecia - For my grades to go up and to not be afraid of heights.
Alexis - My friend having issues at home.
Amy Williams - Best friend, Tabitha's, mother has a severe ulcer that may need surgery, please pray for her.
Gary Wandelt - Prayers for Israel, the Middle East and US and the world.
Heidi Russo - continued prayers for mom, Anita, in rehab now.
Jake & Evelyn Froisland - Our oldest son, Steven, has passed away suddenly. Please pray for our family. 
Mary Lee Hawes - Prayers for Janet and Steve Marion, Steve is in the hospital with congestive heart failure.
Karen Neumeyer - Please pray for Felicity Fricke and Trevor, Tori and family as she is being taken to a children's hospital with very high blood sugar. They need to get it under control and then will determine causes and treatments.
Marcia Montgomery - update: Bob is out of ICU - no breathing help - doing better. Me with covid and Bob in hospital with it due to lung issues.
Melissa Foley - Please pray for God to soften and prepare my youngest brother's and my mom's heart. Hedge of protection around Mom medically until she accepts God's free gift of salvation. For God to remove the blinders from Kenny's eyes, he's 73 and an atheist and he thinks Christianity is a cult. Soften and prepare Gail's heart and Gary's heart. Pray for swelling x 4 months to go away in my left knee. And to give my Orthopedic doctor divine wisdom on cause and proper treatment plan for me. Pray for India mission team. And for ALL villagers in this unreached people group to
receive Jesus as their Savior. Peaceful, restful sleep for Chris. Unspoken for Chris. Pray for God to move in the mountains, to intervene, to break
every chain binding us up, remove hindrances, and for His will and plan to unfold in our individual walks and our marriage.
FOOD PANTRY PATRON REQUESTS:
Emily - for health issues to be resolved or easier to take and financial peace.
*Please send your requests in the form below. They will be edited and published new on Monday mornings with additions on Thursday mornings, then cleared and refreshed again with new requests each Monday. There is no need to send multiple requests as the text field will accommodate as many requests as you want to put in.