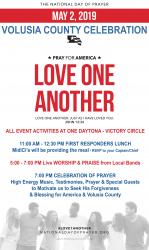 The National Day of Prayer (NDP) is a very special day in the calendar of the church year. Oh, Christmas and Easter are very special days that Christians around the world are celebrating and remembering in many different ways. But the National Day of Prayer (NDP) is unique in a number of ways. First of all, this is a day of prayer that all Americans are encouraged to participate in as we pray for our cities, county, state, and nation. The National Day of Prayer was created in 1952 by a joint resolution of Congress, and signed into law by President Harry S. Truman. In 1988, the law was unanimously amended by both the House and the Senate and signed into law by President Ronald Reagan on Thursday, May 5, 1988, designating the first Thursday of May as a day of national prayer. Every president since 1952 has signed a National Day of Prayer proclamation.
Secondly, in Volusia County the NDP events have served as annual rally opportunities. For the past twenty years the one Church of Volusia County has been called upon to lay aside local congregational schedules and agendas to embrace a much bigger agenda... to bring the people of God from all across Volusia County together to humble ourselves before God and unify in prevailing prayer for the next great move of God in America. Imagine what would happen if we could become a visible union, standing together in prayer. I believe when we do this we become an answer to the Lord's prayer in John 17:21 where he says "that all of them may be one, Father, just as you are in me and I am in you. May they also be in us so that the world may believe that you have sent me."
This year the NDP will be held on May 2nd, in the heart of our community, at One Daytona, a new shopping/restaurant/entertainment venue directly across the street from Daytona International Speedway. There is a large courtyard area surrounded by restaurants which is called Victory Circle just across the street from Bass Pro Shops. This is where we will meet to pray for our city, county, and nation. The One Church, at One Daytona, in Victory Circle. I think it's a bit prophetic. Many local worship bands will be playing music from 5-7 PM for your enjoyment. Come out and eat at one of the local restaurants, enjoy the music, and then walk 10 feet into Victory Circle for the Evening NDP Celebration from 7-8:30 PM. This year there is an NDP choir, a special "Love One Another" drama, great worship, and of course prayer! Five hundred chairs will be available on a first come first serve basis. You are welcome to bring your own chair and plenty of parking is available on the west side of Victory Circle. 
Please come! Be a part of The One Church that will together, praise, worship, repent, petition and seek the very heart of God, in unity with others around the nation, on the National Day of Prayer!
Pastor Bobby Smith