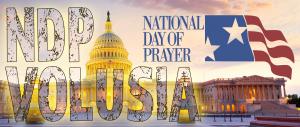 National Day of Prayer Volusia
May 4, 2023 - 7PM Main Service hosted at Calvary Christian Center - 1681 W Granada Blvd, Ormond Beach
Family Activities start at 5:30 PM on the grounds. Live music, food trucks & kid games plus much more.
It all begins with you!
Stand united in Christ Jesus to see HIS Kingdom Come on Earth as it is in Heaven. Whatever your portion is we are excited you are with us!
NDPVolusia@gmail.com
(386) 320-3834