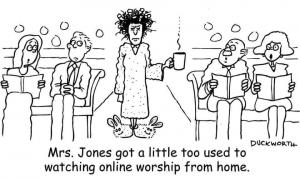 We've all been reminded, in a big way, recently that "the Church" is not a building. It's God's people. It's been great to see the outpouring of the love of Christ to others as we've navigated these strange times. Way to go church!
That being said, there's nothing like the church family coming together under one roof to worship! Coming Home to the celebration of His love and power, to the table of His mercy, to the seat of His teaching and to the warmth of His family will be wonderful. We will begin welcoming you home in the safest way possible starting this week! And, if you are not quite ready to make that step back into socially distanced gatherings, then we will still be online for you! Please see our Covid-19 Updates/Reopening page for all the ways we are working to keep you safe.
Wednesday Night Bible Study starts again in person this week, May 20, 2020 at 6:30PM. We will be in a larger room to allow for spacing and we will still host on ZOOM for those at home. And, dun du du duuu, Sunday Worship will be open too this weekend! Again see our guidelines here and/or watch our "Coming back to Church" update on facebook!