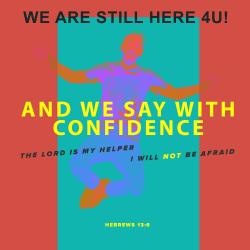 These are certainly unusual times we are living in! None of us have seen anything quite like the current conditions. But, don't think for one minute that God is not still in control or that He has left you. He is right there with each one of us whether we are at home and feeling isolated, still working and nervous about catching IT, or just trying to go out to find a loaf of bread or the coveted TP - HE is there. And, with Him by our side we should feel so much stronger; so much more hopeful and peaceful than those who don't know Him. We should be finding ways to be helpful and generous because that lets God in us OVERFLOW to those around us. And, I'm happy to say that we see just those kind of things happening!
Our SDCC community has not vanished. We are still here for each other. The staff has been working hard every day to try to find ways to help and to keep us feeling TOGETHER even when we are seperate. And, again, it fills us with joy to see that love and care within our church family and beyond is happening. God is so good!
Stay tuned as things develop. We will be posting and sending information often to keep you up to date.
God is FOR you, SDCC is FOR you!
Stay Faithful - Not Fearful!