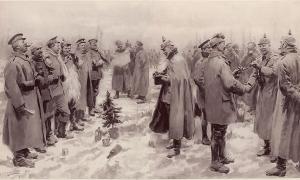 On December 7, 1914, Pope Benedict XV suggested a temporary hiatus of the war for the celebration of Christmas. His suggestion wasn't held as important but his prayer was. God did something that will be forever remembered. On Christmas Eve, many German and British troops fighting in World War I sang Christmas carols to each other across the lines, and at certain points the Allied soldiers even heard brass bands joining the Germans in their joyous singing.
According to accounts from the men involved, the soldiers shared cigarettes and pulls of whiskey, and some exchanged Christmas presents with men they had been shooting at only hours before. Taking advantage of the brief lull in combat, some Scottish, English and German troops even played a pick-up game of soccer on the frozen battlefield. The truce was not sanctioned by the officers on either side, and eventually the men were called back to their respective trenches to resume fighting. Later attempts at holiday meetings were mostly forbidden, but as the war dragged on the "Christmas Truce" would stand as a remarkable example of shared humanity and brotherhood on the battlefield.
That day God did something through the mouth of Pope Benedict xv. Whether through the prayers or through him speaking up he had realized a hope that only God could full-fill. Never think your prayers are not being heard or your prayers are too big for Him to answer!
Ephesians 3:20-21 "Now to Him who is able to [carry out His purpose and] do superabundantly more than all that we dare ask or think [infinitely beyond our greatest prayers, hopes, or dreams], according to His power that is at work within us, to Him be the glory in the church and in Christ Jesus throughout all generations forever and ever. Amen."