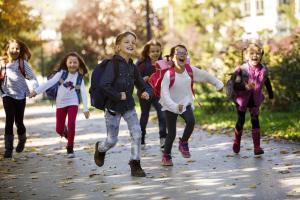 "Love means doing what God has commanded us, and he has commanded us to love one another, just as you heard from the beginning."  ~ 2 John 1:6
Children's Ministry is the best! Watching a child's eyes light up because they "get it" while I'm teaching is by far the most rewarding part of this job! I love it! By obeying what God has commanded us to do, our Children's ministry's vision is to lead children into a growing relationship with Christ by creating environments in which children are encouraged to pursue an intimate and loving relationship with God, form positive friendships with their peers, understand their God given gifts and begin to use them, and positively influence their friends who do not know Jesus.
Our programs start from birth to reinforce this vision. Children are exposed to teachings through music, crafts, bible stories, skits and much more as they grow and develop. There are special programs and activities tailored to each stage of a child's life. We work with our church kids, but are always looking outward as we go, seeking for those that God gives us the opportunity to introduce to Jesus. One of our outreach programs is Tuesday Kidz Club, we have almost 100 kids from South Daytona Elementary come over for an afternoon each week to hear the word thru Bible, music, games and crafts. This is our third year providing this program. The many volunteers who have a heart to be obedient to God's command allow this program, with all it's challenges, to not only survive, but thrive. Children, and entire families, are being impacted by God's love. Below are some inspirational quotes from some of our SDCC KIDZ:
"Ever since I got my new bible from the church, I have been reading it whenever I can."
"At first, I didn't want to come here, but now this is my favorite part of the week."
"Thank you for telling us stories from the Bible. They are so interesting."
" If I could get here, I'd be here all the time."
Hey, if any of this sounds exciting to you, maybe you should be on our team. There are so many ways to be involved. It's not all teaching. Get in touch with me if God is nudging you this way! And, I'm pretty sure that every one of us can pray for children and our programs. Thanks in advance for keeping that on your list! Our goal is to make sure that every child we come in contact with hears the Gospel message and forms an intimate relationship with Jesus, ultimately being baptized into the body of believers. It's important. It's fun. It's rewarding. It makes an eternal difference!
In His name,
Tami Fricke
Children's Minisrty Leader