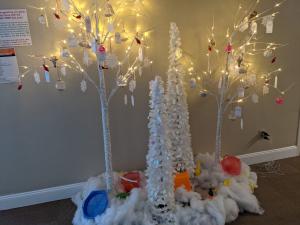 There's a wonderful mix of worship, praise, fun, prayer, giving and loving happening at church through the season! There are also multiple ways to participate as we continue to try to keep everyone safe and healthy. Join us in the JOY of the Christmas Season!
Give & Love: Our giving tree this year will benefit our camp, North Florida Christian Service Camp. They really went above and beyond this summer to provide a safe camp environment, but took a hit financially. Let's encourage them and help them get everything in shape and ready for retreats and a new camp season. Hundreds of kids (and adults) are blessed each year by being introduced to Jesus or getting to know Him better. Take a little envelope off one of the trees in the main hall, slip in your gift and place it in the offering plate. Or, you can mail in a check marked "camp" in the memo - or http://sdccfl.org/give-online and choose "other" then call or email Greta to confirm your gift goes to the camp.
Praise & Encourage: Come Sing with our Caroling group on Friday, December 18th from 6:30 to 8:30 PM! Everyone meet at church and then we'll go out into the neighborhood to bring some joy and encouragement! We will also have some Hot Cocoa! The whole thing will be done with safety in mind, joy in our hearts and a song on our lips!
Worship & Candlelight: Our Christmas Eve Candlelight Service is always a bright and beautiful evening! Join us at 6:30 PM to experience the true meaning of the Christmas Season. We will have music and specials, the Christmas story from scripture, a chance to give funds and blankets to the homeless and needy with our manger gifts, a live nativity, candlelight and even snow flurries.