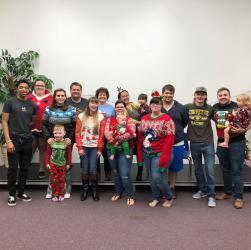 Young adults going through life believing and praising God together (Acts 2: 42-47)
Amplify young adults is a ministry for college/career/young family age (18-30ish yrs) where we focus on the fellowship of believers. We started this ministry so that we can go through life believing together. We focus on Engage-Empower-Extend.
ENGAGE together and devote ourselves being in community with each other and learning how the Bible applies to our lives.
EMPOWER each other through God's Word to go through life knowing how to seek and study the Bible for ourselves.
EXTEND out to share the love of Jesus with others. Life can be challenging; especially for young adults. As we navigate all this world throws at us, we learn that we can trust in God to guide and bless us along the way. 
Amplify young adult ministry is a great place to connect with others who are going through the same challenges, and same life as you. We invite you to join our group and see how God can create wholeness in our lives.
Meeting times: Sundays @ 9am Wednesdays @ 6:15pm
Follow us: Instagram: @sdccyoungadults
Facebook : SDCC Amplify