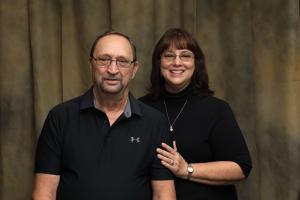 Office Manager / Outreach Director
Karen Neumeyer is our office manager and is married to long time elder, Duane Neumeyer. She's been a part of our staff for almost 30 years. They have four grown kids and one grandchild - who is apparently the most wonderful, and cutest, child on the entire planet! Karen is also involved in our school administration, the leadership of our Missions Ministry, Outreach and Membership Development. One of her greatest passions is her work in Haiti with people in rural villages. She and Duane have been serving there since the early 90's. Karen knows the church like the back of her hand, and most members and attenders. If you have a question about anything here at SDCC, Karen can probably give you an answer or find someone who can help you.
"I absolutely love my work and ministry at SDCC and feel so blessed to be a part of this leadership team and loving church family. I've never seen such servant hearts as in these folks. It's inspiring to see the evidence that we're following where God is leading. To God be the glory for the difference we are seeing in people's lives, in this community, and in ministries around the world"